It is an honor to be commissioned to create a special piece of art... capturing on paper your loved one, a special pet, an equine friend, your dwelling place (past or present) or even your barn would be the artist's pleasure.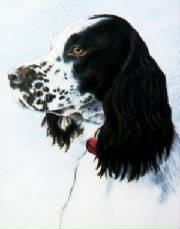 Using pen & ink, pastel, or colored pencil I can create a special portrait for you. Prices start at:
8" x 10" image $125.00 (Pen & Ink $60.00)
11" x 14" $175.00
16" x 20" $375.00
20" x 24" $475.00
I can work from a clear photograph you provide.
Cash, check or a money order are accepted, as is PayPal.
Contact the artist: EMAIL