I've learned that creativity is a God-given gift and that it expresses itself in many ways. In 1990 I was blessed with the insight that musical self-expression comes from the same spiritual place as my own method of self-expression - drawing. And over the years, certain musicians have been sent my way to inspire me. They have taught me to be true to my muse, to move forward & never compromise, to be dedicated & fearless.
Here are affectionate portraits I've created of some of these marvelous musicians. Listen to their music and it will bless your heart too.
Stevie Ray Vaughan and 'Number 1', his beloved Fender Stratocaster. He was gone before I could see him play in person but his music, attitude and dedication to his craft is a strong positive influence to me every day.
Eric Clapton and 'Blackie' from the 1990 concert where I saw him for the first time at the Omni in Atlanta. Long story, but lets just say his music is still a powerful, positive influence in my creative life.
Muddy Waters, the first blues musician I heard and appreciated when I was a kid. Dad played a lot of music but even then it was the blues that touched my heart.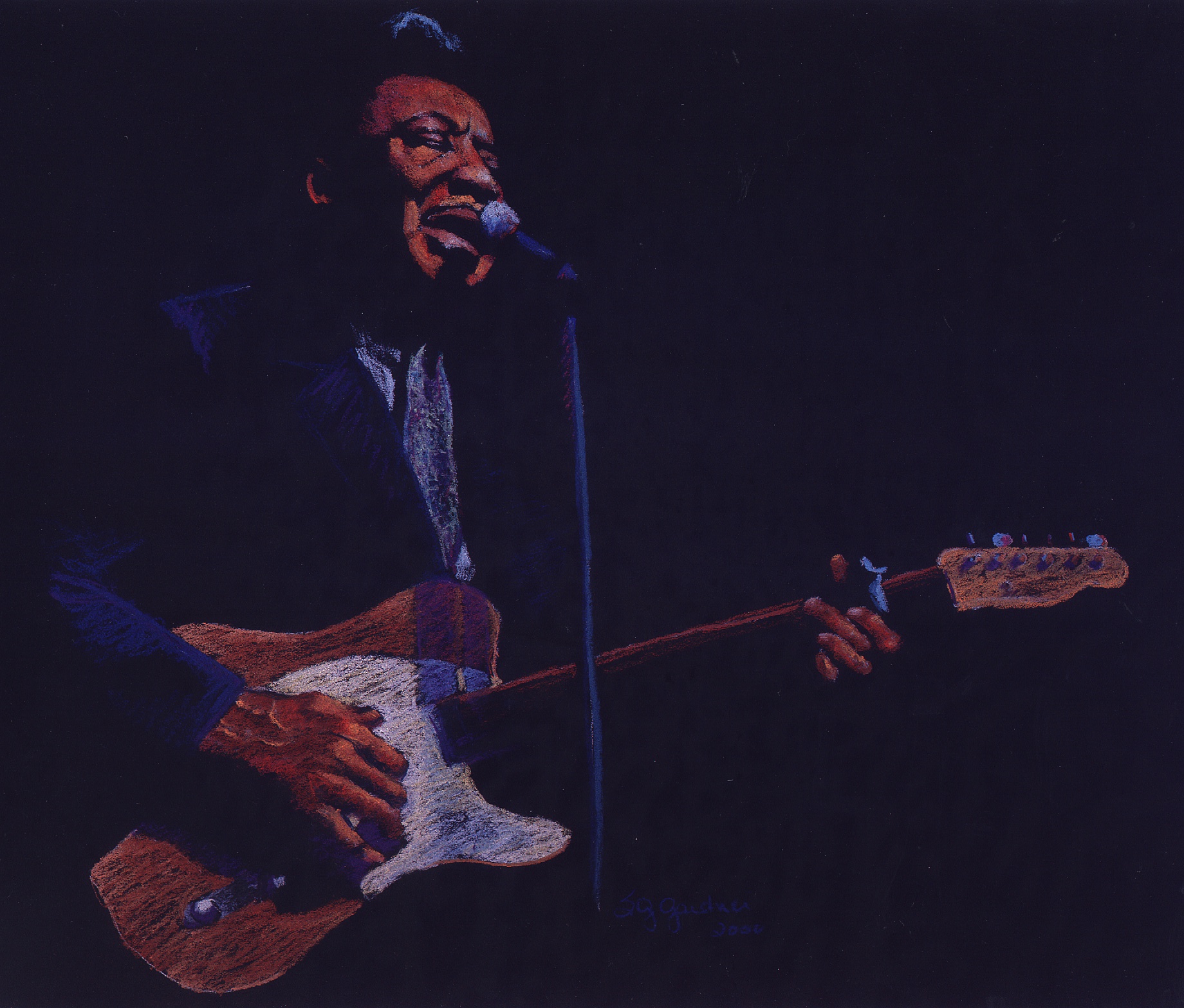 My newest musical inspiration is Mike Campbell, lead guitarist for Tom Petty & the Heartbreakers. I've always known who the band was, we're close in age. But in March of this year I truly heard & saw Mike, first in a concert performance where he wielded this gorgeous Gretsch Falcon on 'I Won't Back Down' - then I saw him in person in April. I suppose I'll stop grinning at some point, but not for awhile. Mike never plays an unnecessary note; his music is strong, joyful, and he has the purest tone I have ever heard. And he shows me what happens when you are dedicated and true to your muse. Thanks Mike!
The Bluesman', my portrait of John Lee Hooker. Long story, but Mr. Hooker saw this portrait and liked it; we talked on the phone and he said "I guess I am the Bluesman... haw haw haw haw." You can imagine how thrilled I was not only to talk to him, but to get such a cheerful reaction.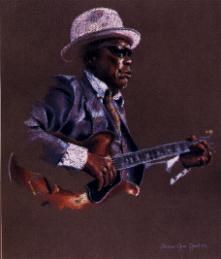 Justin Currie, currently a solo artist but my favorite vocalist of all time & the former lead singer & songwriter for Del Amitri.
Clifford Brown. I created this portrait by request for a playbill for a Theater in the Square performance.