Creativity is a God-given gift meant to be used. When shared, it enlightens, blesses, reprimands, humbles and encourages the listener. Or viewer. In 1990, a life-changing encounter with great guitar taught me that creativity expressed in music comes from the same inner source as my own method of self-expression: drawing. Over the years, certain musicians have been sent my way to encourage, challenge and inspire me. They have taught me to be true to my muse, to move forward & never compromise, to be dedicated, fearless and most of all have fun.
Here are some of the affectionate portraits I've created of some of these marvelous musicians.
Eric Clapton and 'Blackie' were one of the very first portraits, inspired by the 1990 concert where I saw him for the first time at the Omni in Atlanta. His blues-based guitar resonated with me and propelled me into several years of exploring the blues - and rendering portraits of Albert King, BB King, Buddy Guy and John Lee Hooker.
That concert, and this portrait, opened the door to a new style of art.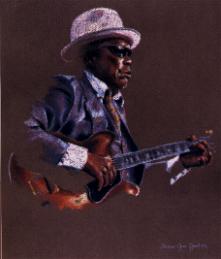 'The Bluesman', my portrait of John Lee Hooker, another early portrait. I sent an image of it to John Lee's management team. Mr. Hooker saw this portrait and recommended it to be reproduced on tee-shirts; his team called me to discuss it and to my surprise put Mr. Hooker on the phone. He knew the title of the portrait and said "I guess I am the Bluesman... haw haw haw haw." I just about fell in the floor. You can imagine how thrilled I was not only to talk to him, but to get such a cheerful reaction.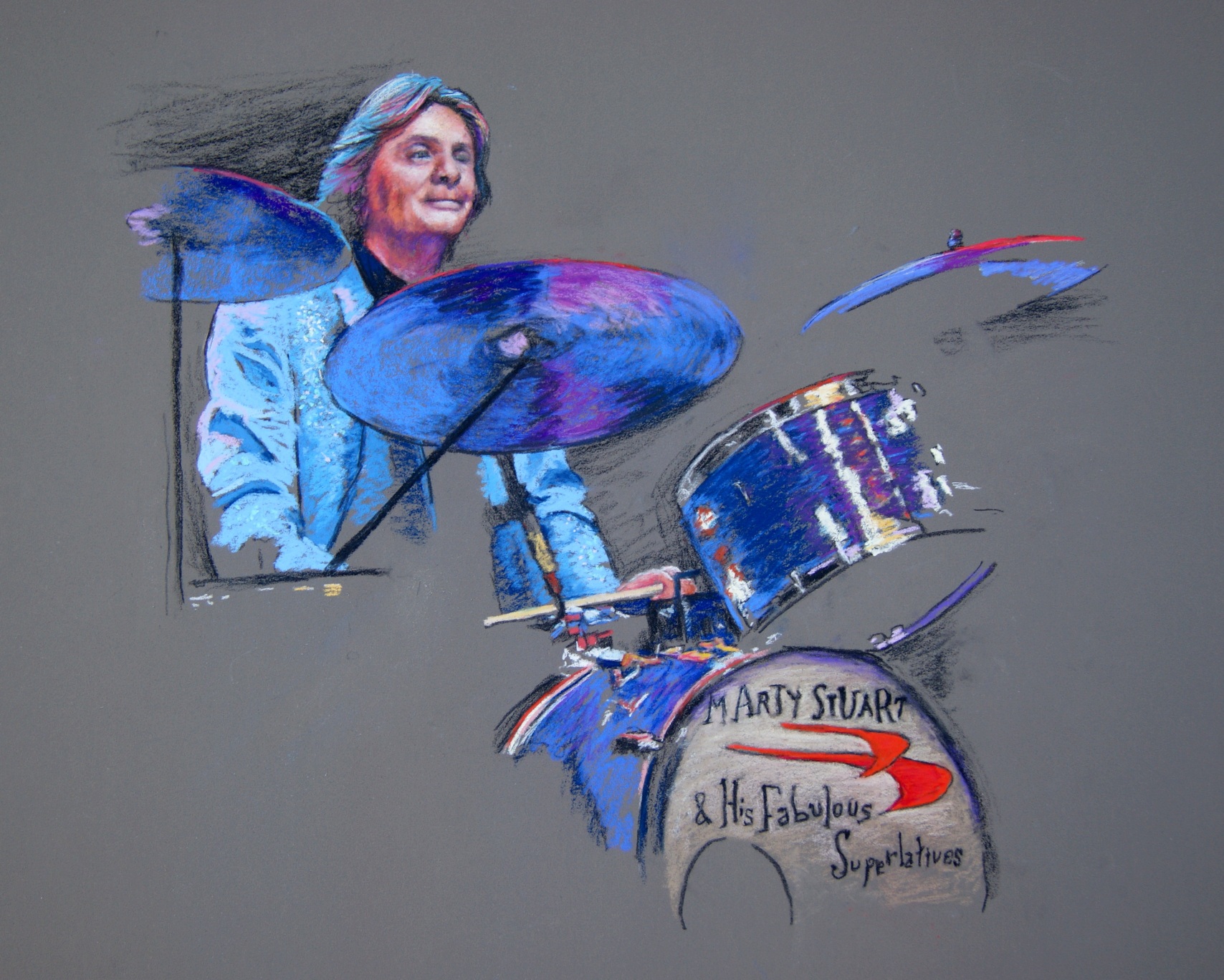 Harry Stinson is a super drummer and fine tenor vocalist too. No wonder he's such an integral part of Marty Stuart's Fabulous Superlatives band. I photographed Harry in concert and created this portrait, which has officially met with his approval. That kinda made my day!
This is Marty Stuart and his beloved mandolin. I photographed Marty and His Fabulous Superlatives band in August 2012 and created this portrait from photos taken that evening. This portrait captures him during a solo on that mandolin; he walked to the front of the stage alone, turned ever so slightly towards me and began to play. After I caught my breath, I muttered "I gotcha!" knowing that his first portrait would be this. It was an amazing moment, when he opened the gate to creativity and let the joy flow - and let me witness it. Thanks, Marty.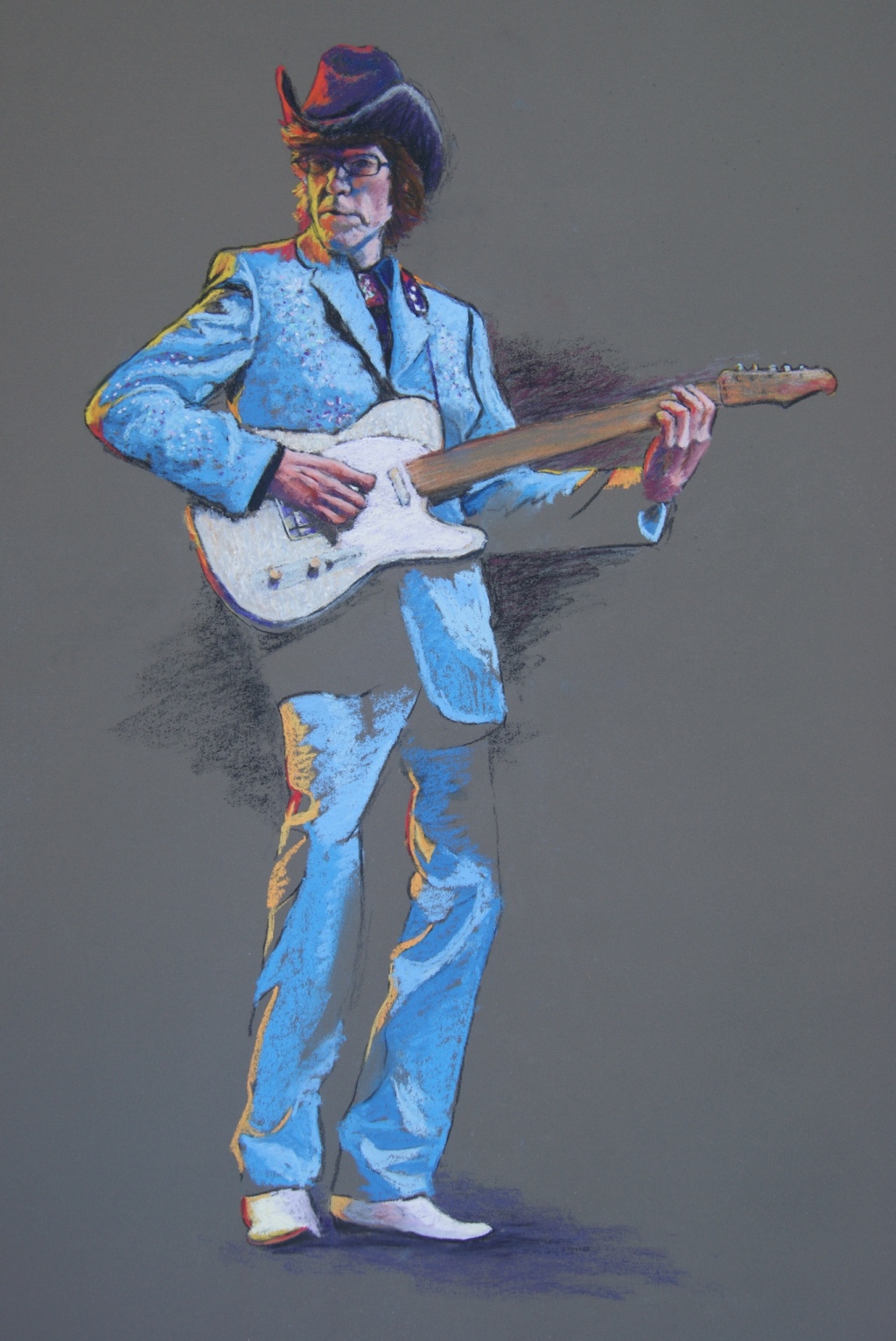 Kenny Vaughan - make that 'Cousin' Kenny - is the lead guitarist in Marty's Fabulous Superlatives band. Kenny merited my first full-length musician portrait because how could I resist sketching those boots?
A fine guitarist, cool as grits on stage, and sweet as a peach to talk to.
By the way, Kenny has a terrific solo album out called "V" that I keep on the CD player in the art studio all the time.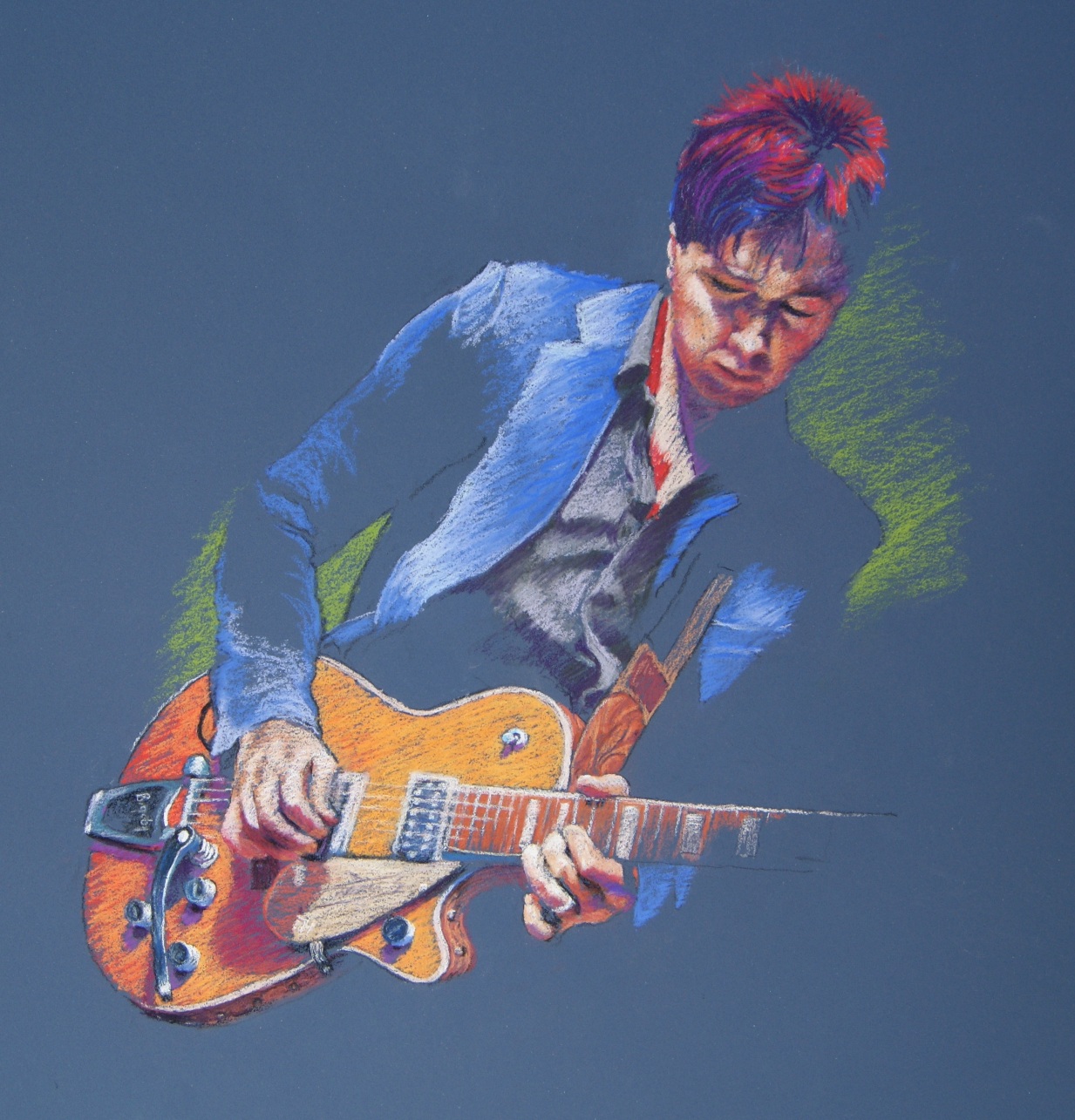 Tony Sims and his Gretsch Hot Rod 6120... what a combo. I heard this amazing guitarist at a venue in nearby Villa Rica. In this portrait I achieved something very special, I reached a new level in portraying a dynamic guitarist. The portrait is now in my own art studio where it gives me inspiration - and a challenge! - every time I sit down to work.
In early 2012 a new musical inspiration jump-started the portrait series. I'd always known who Mike Campbell was, of Tom Petty and the Heartbreakers (we're close in age; they went to LA about the time I started college) but in March of 2012 I saw Mike in a TV concert performance where he wielded this gorgeous Gretsch White Falcon on 'I Won't Back Down' - then I saw him in person in April of 2012. THEN in April of 2017 I had a front row seat for the Atlanta stop on the 40th anniversary tour. People, I haven't stopped grinning. His music is strong, eloquent, and he has the purest tone I have ever heard. There is going to be a portrait to come from that concert that will be strong, powerful, and show you what I heard and witnessed that night.
From Mike I have learned what happens when you are dedicated and true to your muse... you create with an ease and confidence that only comes from experience.