Thanks for dropping by! Springtime has finally arrived, and the art studio is rockin' with the sounds of tunes as new musician portraits are created.
Check back here often to hear about new exhibits.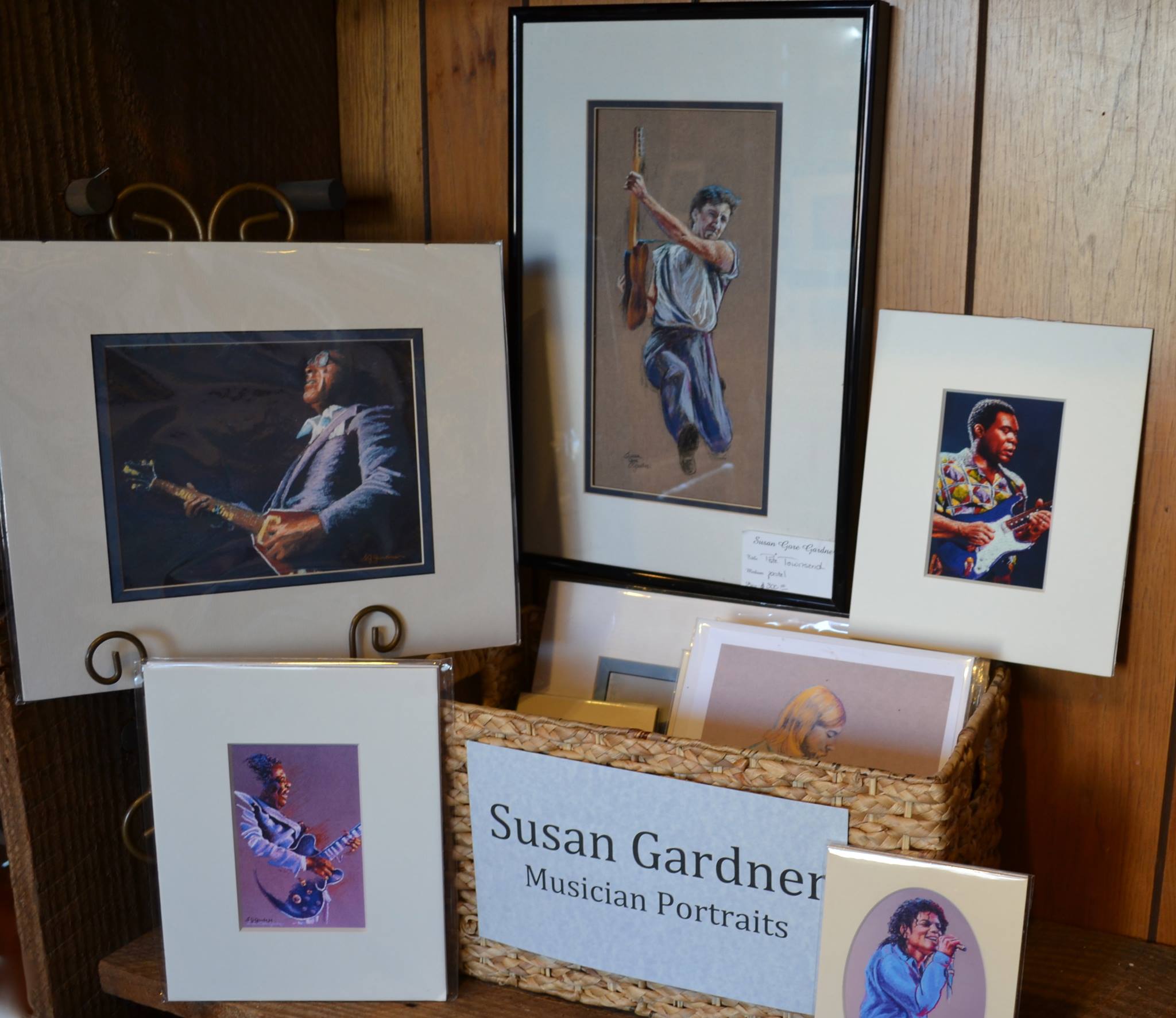 The Red Cockerill Gallery
has the original sketch of Pete Townshend plus prints of many other musician portraits.
AND on SAT. APRIL 25 at the Red Cockerill...
COLORED PENCIL WORKSHOP:
FEATHERS TO FUR
I got my start as an artist in 1980, creating colored pencil portraits of birds and wildlife. Let me teach you how to draw your favorite critter, be it wild or tame, as this 1-day workshop! Bring a clear photo of your favorite pet or wild animal, or choose from photos I will provide. A materials list for the class will be provided, and you can get supplies thru the Red Cockerill Gallery where the class will be held. Sign up today by contacting Ann Cockerill and Emily Lightner at the Red Cockerill Gallery!
Red Cockerill Gallery
Address: 2845 Cemetery Street Austell, GA 30106 Phone:(770) 944-3160 Hours: Tues.-Sat. 10:00 am – 5:30 pm _____________________________________________________________________________ East of Austin is a super new music venue / listening room and they are so kind to exhibit my musician portraits! From blues great Robert Cray, Duane Allman, Travis Tritt and Buddy Guy, right on down to new amazing talent like Nick Ivey, there is something for every musical taste in this exhibit. East of Austin is open twice a month for concerts, and you can see the art exhibit those evenings. **20% off all musician portraits at East of Austin, thru May 2015!!** I am there at each concert, to tell the stories behind the musician portraits and to hear the amazing musicians Shelia Quattlebaum is bringing to Villa Rica. Join me Saturday night, March 14 at 8 p.m. for Kurt Fortmeyer, country/Americana singer, and we'll get to hear Sheila singing too! For upcoming shows, info and to order tickets visit their web site at www.eastofaustinlive.com Info about East of Austin: East of Austin is located at 165 Edge Rd. in beautiful Villa Rica, GA.. We are a mostly-acoustic, listening-room venue (90 seats) featuring the best local and national artists. We offer our music fans a little something "different" to the West Georgia area and will feature a variety from Pro songwriters to tribute shows, from bluegrass to rockabilly. We are a smoke-free, alcohol-free venue. We do offer a concessions stand with light snacks and beverages including soda, coffee, and bottled water. SCHEDULE: Our regular shows will be the 2nd and 4th Saturdays of each month. Doors open at 6:45 PM and shows are from 7:30-9:00 PM unless otherwise noted. (The artist with Nashville songwriters/musicians Buddy Jewell and Eddie Heinzelman 2014) __________________________________________________________________________ Susan Gore Gardner Artwork & Musings can be found on Facebook at: [ fbookbox, 5986191 ]